Apple Newstand has been a real letdown, probably because Apple isn't able to give it the kind of attention that it showers on iTunes.
This is especially true when you're looking at magazine publishing in countries like Vietnam, where Newstand penetration is smaller. Apple Newstand in Vietnam contains mainly titles from major magazine corporations like Sun Flower Media and Ringier Vietnam, which hold some of the top magazine brands in Vietnam. But recently, Vietnamese folks have been getting more options. There're a few startups competing in this category, including Kpaper and Greelane. Kpaper's design though is not as sleek as Greelane's, despite having more content.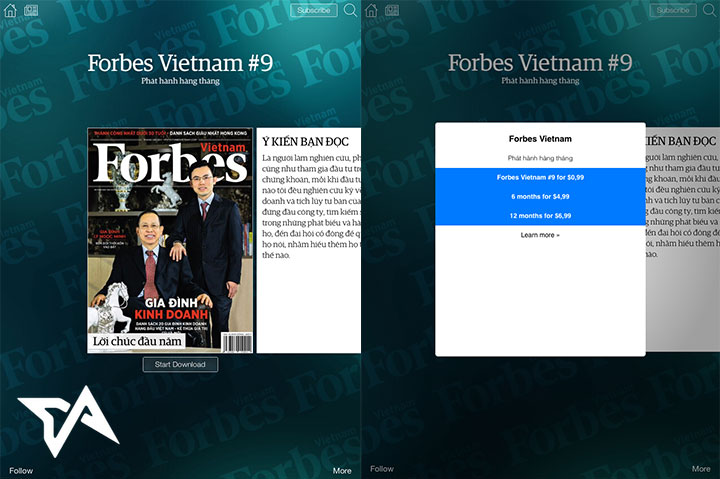 Greelane places an emphasis on design in mobile apps and products, which is a growing trend in Vietnam. Greelane comes from Vinapo, a company which also focuses on its ebook platform, Alezaa. Currently, Greelane only hosts three main magazines: Forbes Vietnam, a historical magazine title, and another business magazine called Doanh Nhan.
Founder and CEO of Vinapo, Tran Phuong, says that Greelane now has over one thousand paying subscribers. 74 percent of them are on 12-month subscriptions and 26 percent of them are on 6-month subscriptions. That's just after releasing the product for two months ago.
Of course, since these titles are in Vietnamese, the market is mainly for Vietnam, but Tran says the ambitions don't end there: Currently, we are working with Thai, Malaysian and American publishers to expand Greelane to the global market in the next three months. Greelane's user interface As you can see in the screenshots, Greelane looks professional, with elegant font choice and design.
Unlike Newstand and Kpaper, Greelane doesn't want users to turn the page from left to right like an actual book. Instead it allows users to scroll up and down like a website. This makes for a sleeker experience compared to trying to replicate traditional page flipping on screen.
Greelane allows users to pay for subscriptions by credit card or via local ATMs. A subscription for six months with Forbes Vietnam is 81,000 VND (US$3.80) and 12 months is 135,000 VND (US$6.40). That's much less than the 12 month paper subscription cost of 450,000 VND (US$21.00). At present, even with the sleek design, Greelane is limited by its current content offering and the amount of Vietnamese and international users who read magazines on their iPads and tablets.
That being said, Newstand has been a disruptive force for magazines desperate to get online and magazines in Vietnam are facing similar pressures from a ferociously fast growing online media world lead by forums like WebTreTho and even online media sites like Marry.vn, which was started by magazine publisher Ringier Vietnam. You can download the app for your iOS device here.