IDG Ventures Vietnam was the first venture capital firm to invest in Vietnam over nine years ago, and has since been the leader in investing in Vietnam's small and large technology companies. That means it's also had the privilege of being in local the startup scene for some time.
IDG Ventures Vietnam started investing in Vietnam in 2004, back when the Vietnamese internet population was less than 10 million users. Today, the population is well over 30 million. Like most venture capital firms, its success rate is under 20 percent for startups invested, but companies like VNG, Vietnam's biggest consumer tech company, have paid back the firm in droves.
So here, for your reading glory, are the 42 companies that IDGVV has invested in over its last nine years as an investment firm. Note that IDGVV may have been the first large VC firm to set up shop in Vietnam, but it's not the only significant one – CyberAgent Ventures and DFJ VinaCapital make regular contributions to the Vietnamese tech and startup scene.
A large majority of these companies started between 2005 and 2007 just as the first wave of Vietnamese startups began to emerged. For IDGVV, the most noteworthy of these companies include: VNG, VC Corp, Vat Gia, Socbay, Peacesoft, Vinabook, Webtretho (Project Lana), and Vietnamworks. These have all either grown into massive companies, been acquired, or spun off into significantly larger projects.
Many in the industry have speculated that IDGVV has slowed down its investments in technology and has refocused investments in other areas. But associates in IDGVV also say that their offices are focusing more on growing the startups it have already invested in.
Please note that in the list below, not all are tech investments but some have been drawn into the tech fold. For example, FBNC Vietnam is slowly transitioning away from traditional video media to more digital. Also, companies like Classbook have received IDGVV investments but have never stated publicly the investment round nor does IDGVV publish the site its public list.
All data for this post was garnered here, at IDGVV's portfolio list. Click there for more details.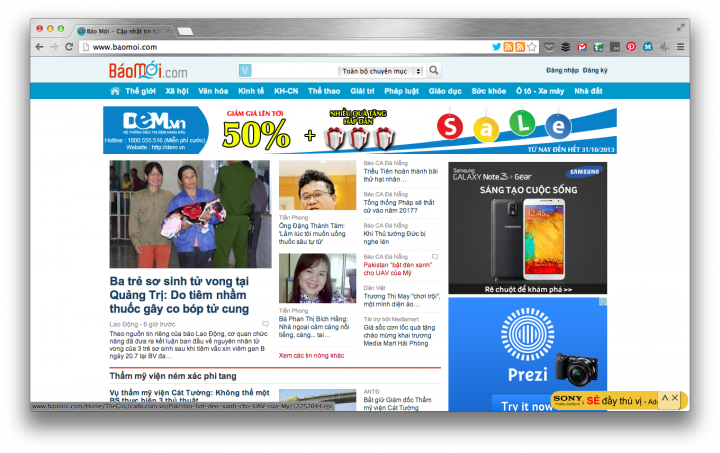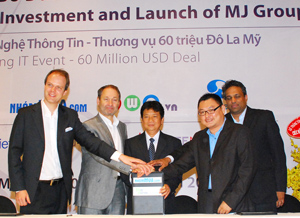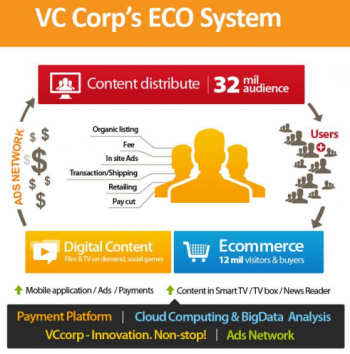 VNG (formerly Vinagame) – By far one of Vietnam's most successful tech companies and rumored to be worth over $300 million, VNG started out as a gaming company which licensed games from Chinese game developer Kingsoft. It has since evolved into a number of categories including e-commerce, social media, mobile OTT, media, and its own set of games. VNG had a whopping revenue of over $90 million last year.
Vinapay – Vinapay is one of the many payment platforms competing for the pot in Vietnam.
VSMC – Like Tamtay, VSMC used to focus on the youth population in Vietnam, even building a platform for youth who enjoy Japanese manga and anime. The website is down though, and it's in the deadpool.
Webtretho (aka Project Lana) – Started out as a forum for females online, Webtretho is now the number one place for women to go to chat about issues that are dear to them. It has over one million users to date. Since then, the project has spun off into what is now called Project Lana to those in the industry, this project includes five main web properties including: Beyeu, Lam Dieu, Foreva, Mua Gi O Dau and Thanh Ly. These are all sites in the e-commerce category. In other words, Project Lana leverages its forum to source products that users want and while also target the same market.
Yeuamnhac (aka YAN) – FBNC, TV Plus and YAN are IDGVV's most significant investments into video content. In the case of YAN, it is very focused on being a media platform for music on all channels including internet, TV, mobile, radio and events. YAN also manages YAN TV, which is increasingly resembling MTV in the late 90's when it started to pivot away from music and into reality tv.
Yeuthethao – Last but not least on the list is Yeuthethao. It's currently the leader in providing news and information on sports for Vietnam's sports fans online. And since Vietnamese people love soccer, of course Yeuthethao manages BongDa, the biggest soccer news portal.